Poet's Beach
Poet's Beach – Official Opening July 13, 2017
After years of work and advocacy – the Summer of 2017 Portlanders will have dedicated place to get in to and enjoy the Willamette River at Poet's Beach. Working with Mayor Wheeler and the staff at Portland Parks & Recreation and Bureau of Planning and Sustainability, Poet's Beach will be activated with lifeguards, picnic tables, restrooms, and other amenities that will allow us to have "a day at the beach" right in our city.
The "Poet's Beach" project is a collaborative effort between the Human Access Project, Honoring Our Rivers, Willamette Partnership, and Flowing Solutions. Approval for the project was received from the US Army Corp of Engineers, Department of State Lands, and Portland Parks and Recreation. The work has been funded by Human Access Project, Portland Parks & Recreation, Oregon Wildlife, Confederated Tribes of Grand Ronde, Wildwood | Mahonia, and NW Natural.
Nicknamed "Poet's Beach", it can be reached via a newly cut path through riprack rock. Along the path are stones engraved with children's poems that speak for the Willamette River. Also inscribed are native Chinook words provided by the Confederated Tribes of Grand Ronde, who have honored the river since time immemorial. The engraving work was done by Peter Attila Andrusko of Written In Stone Productions.
Please be sure to review Human Access Project's Willamette River Swimming Safety Guidelines before swimming.
KOIN Feature on Poet's Beach
Poet's Beach Before and After Photos
Poetry and Chinook Jargon examples
Vision for Poet's Beach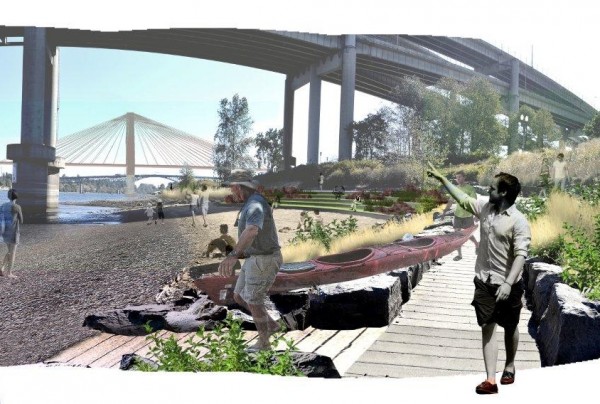 Courtesy of Greenworks - removal of all rip-wrap replaced with terracing for seating