Willamette River History
Bridging the Past to the Present to Build a Great Future
November 5, 2016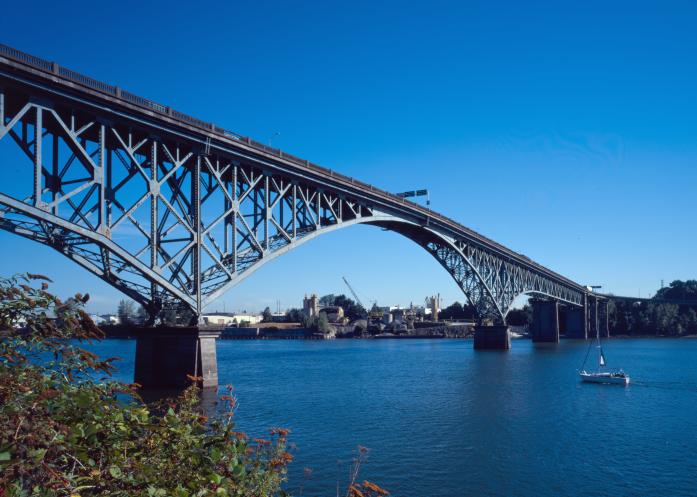 There are a total of 12 bridges that cross the Willamette River, with the most recent being the Tilikum Crossing, Bridge of the People, added in 2015.

 By "bridging" the past to the present, Human Access Project encourages you to learn about the local architecture and its' connection to our rivers.
In familiarizing yourself with the history, we hope that you see the importance of these designs in our current day. Who knows - maybe you will get excited and find more ways to get involved!
This month we are taking a look at the Ross Island Bridge. This bridge is a cantilever deck truss bridge (a rare find here in the Pacific Northwest) which spans the Willamette River. It was named after Sherry Ross, an Oregon pioneer who claimed land on what is now known as Ross Island.
The bridge was opened on December 21, 1926 and was designed by Gustav Lindenthal. Gustav was a famous civil engineer whose work not only served the purpose in which they were designed for, but showcased his love for art. His designs can be found throughout the entire United States, from the Ross Island here in Oregon, to the Hell Gates Bridge in New York City.
According to the Oregon Department of Transportation, the bridge serves an average of 63,000 vehicles a day crossing the Willamette River. The bridge is undergoing a Rehabilitation Project that started in the Fall of 2014 and is scheduled to continue throughout 2017. ODOT contractor crews are working to preserve the structural integrity and lengthen the lifespan of this key link in the regional transportation system.
Fun Facts

- The Ross Island Bridge is the most traveled non-interstate Willamette River bridge in Portland for motor vehicles.
- The Ross Island Bridge helped open up much of southeast Portland to residential and commercial development.
- Portland's famous Bull Run water is carried via a pipe under the bridge deck to the west side of the river.
- It was one of several Willamette River bridges included in a colorful initiative in the 1960s to paint each bridge a new hue. At the time, the new color for the Ross Island Bridge was described as a "deep Mediterranean blue.".
- It was the last of three bridges that Multnomah County completed over the Willamette River in the 1920s, following the Sellwood Bridge and the Burnside Bridge.
Return to Willamette River History Main Page