Willamette River Expressions
HAPpy People: Rory Marion
April 14, 2017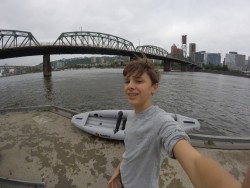 Rory Marion
HAPpy People: Rory Marion
Check out Rory's YouTube channel here:
Meet HAP videographer, drone pilot, philosopher, and young man about town, Rory. Who is this 13-year old you may have heard about? If you've been following HAP's FB page you've seen his work—fun videos of River Huggers with traces of animation and music—delightful displays of the summer river antics.
Where did you learn your video skills?


Short answer; self-taught with plenty of youtube tutorials in between! Since I was born I have always been pretty good with computers. After you master the basics, most all other programs (video editing programs included) are pretty easy to master.
How did you get involved with the River Huggers?


One day I got home from school and my mom was telling me that her friend found this crazy (in a good way) swim team that was swimming in the Willamette, every week in the summer. The first time she went, the huggers were swimming from Audrey McCall to Tom McCall. It was quite a first swim, but she made it! Eventually, I began coming more regularly to the swims and one day I brought my camera to pass the time. I edited it all up, and sent it to Willie, to put on the facebook page. It received 1.1K views, and people loved it! I then I decided to start coming to every swim and filming.


Do you have the best job of all of your peers? In 8th grade, right?


Actually, surprisingly not many kids in my class in 8th grade have a job. There is one kid that works at a thrift store, but my job still is probably better! It's pretty fun doing what you love.
Do you swim?


I do. During the "Weenies On The Water" event last summer, I swam a little bit. It was a really HOT day, and it was pretty nice. A couple of years ago I took swim lessons and I'm not bad, but likely not good enough to swim across the Willamette quite yet! Maybe next year. Ha!
How do you kayak and film at the same time?


That's a great question! Basically, I have a waterproof bag that I store my gear in. I store my camera in the bag paddling out to the river and then if I want to get a shot of the huggers jumping in, I start upstream, and when everybody jumps in I drift downstream. Then I put my camera away and continue paddling.
Do you worry about dropping your camera in the river?


Yes, I definitely do! I usually get scared about letting go of the camera and having it fall out of the kayak. That horrible moment of my camera slowly falling away into the depths of the river! Sometimes I attach a floaty onto the end of my camera so that if I was to drop my camera at least I wouldn't lose it.
What will you be doing this year with HAP?


I have a ton of great stuff in store for this year's HAP and RH videos. I am currently working on getting a new camera, rig and upgrading cameras, to a DSLR camera. I am planning on getting to the dock, taking the drone off and filming everyone jumping in. Then I'll land my drone, get into the water, and film the swim with my GoPro mounted on the front of my boat, via a sticky mount, and me holding my main camera. Lot's of fun stuff, and substantially better video quality, compared to last year! It's going to be great!
What is your favorite thing in the world to do?


Making videos and taking photographs! Honestly, I really enjoy it, so working for HAP and doing just that, is really great!
Return to Willamette River Expressions Main Page