Willamette River Expressions
April 26, 2018

by Madalynn Abraham

The water as beautiful as gold
Riffling the bright sunlight
When I touch the cold sparkly water I feel a sense of relaxation
As I walk upstream I see more and more of the world's natural beauty
But while I walk upstream the natural beauty turns into a different world
A new world,
An untouched world
Where everything is greener,
the birds are singing a beautiful tune that lasted ...

read more
March 19, 2018
by Abigail Rogson
Rippling slowly,
moving through the forset.
I wonder what it's like to be water,
in a stream, moving through a forest.
It was at that moment
I realized
There is peace and good in all of us.
read more
February 11, 2018
by Aidan Pratt
I see the tourists, taking a pictures,
Always coming ever closer,
Seeing my current go ever quicker,
They come near seeking closure,
Sometimes there's boats, exploring the water,
Sometimes there's divers, diving deep,
Sometimes on the edge, I can see walkers,
Peaceful I can be, beware however the drop off may be steep.
All of my Positives, and all of danger,
All ...

read more
December 4, 2017
River in a Canyon
By Ethan Berkson-Klaur
Lightning striking the ground
A storm rolling in
Plant dying forever
A path going to heaven
Big craters in the ground
Shadows of the clouds
One string of life among the world
A blank landscape filled with beauty
Darkness overwhelming
read more
November 3, 2017
LISTENING TO A STREAM OF WATER IN THE FOREST
By Abigail Rogson


Rippling slowly,
moving through the forest.
I wonder what it's like to be water
in a stream, moving through the forest.
It was at that very moment
I realize
There is peace and goodness in all of us.

The poem and artwork were originally submitted to Honoring Our Rivers: ...

read more
April 14, 2017
HAPpy People: Rory Marion
Check out Rory's YouTube channel here:
YouTube.com/RoryMarion

Meet HAP videographer, drone pilot, philosopher, and young man about town, Rory. Who is this 13-year old you may have heard about? If you've been following HAP's FB page you've seen his work—fun videos of River Huggers with traces of animation and music—delightful displays of the ...

read more
November 5, 2016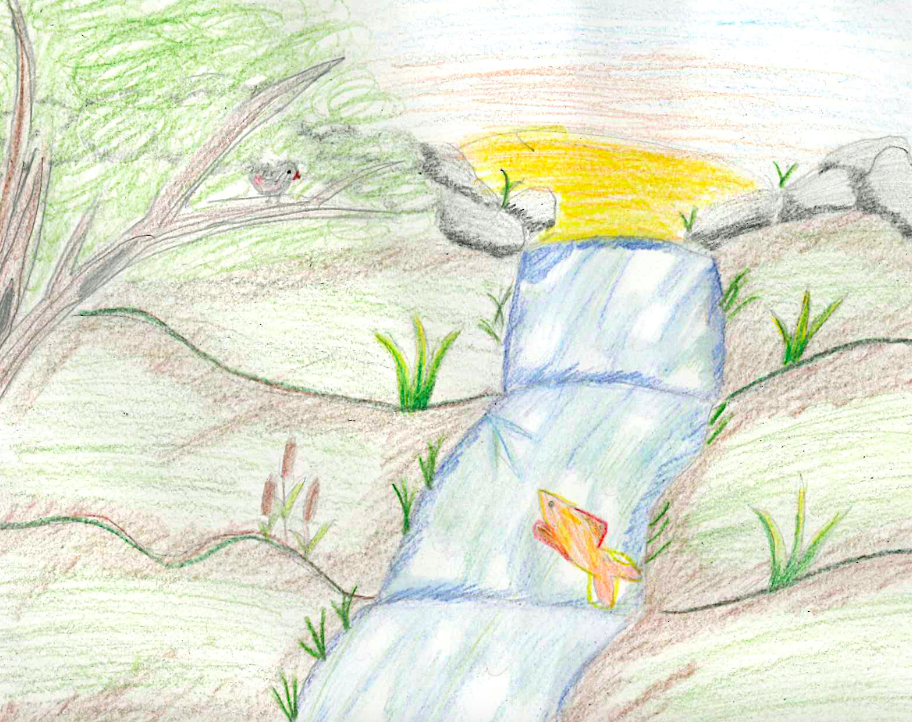 From the 2016 Honoring Our Rivers Anthology:
Free Water
By Alex Rawls, grade 3
Water is flowing freely,
Water chooses its own path,
separate from the rest.
Bubbling, bouncing,
carving canyons,
falling in silence.
read more